The Hatzaki Marble Company was founded in 1945 with the initial objective of producing ornamental objects made out of marble. In the following years the company developed further and begun quarrying, processing and delivering the majority of Greek marble varieties.
In 1970, George M. Hatzakis took over the business administration and succeeded in extending the company's activities, especially the field of global exports, by utilizing up to date machinery and specialized personnel.
In 2001, the reigns of the company were handed over to the third generation of the family, Minas and Giannis Hatzakis. The company extended its activities to the field of ornamental rocks, thus adapting to the demands of the marketplace.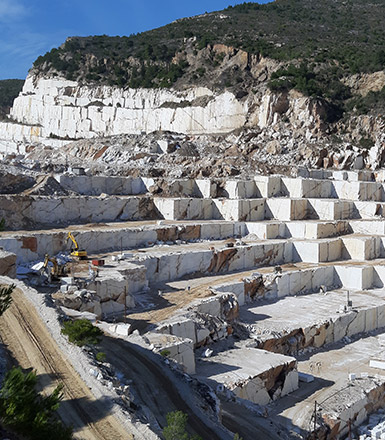 all construction professionals such as:



Our goals are to ensure the best service possible, competitive prices, efficient after sale service and to remain flexible and adaptable to our customers needs.
Today, with over 50 years of experience and notable activity both in the domestic and the international marketplace, the Hatzaki Marble Company can cater to all the needs an architect or a manufacturer can have.